Application Menu
The Application Menu (abbreviated amenu) is a menu the md380tools developers added, completely separate from the original stock firmware's menu system.
How to open
With md380tools firmware, It can currently be opened with the red "back" button.
In KG5RKI's fork of md380tools, it can be opened with the "#" key.
You navigate through the menu with the arrow keys, the green button enters submenus, edits fields, and saves values, and the red button serves as a "back" button.
It looks something like this: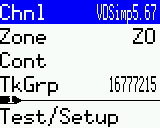 You can close it again by pressing again whatever button you pressed to open it.
Channel Display
Quick zone change
Contact display
Netmon menu (Here you'll find all the net monitor displays, including Last Heard (Netmon 4, so press the "4" key).